Sale Items
We have a limited stock of secondhand and shop-soiled items for sale at reduced prices.
All new items are 100% functional, but have some light cosmetic marks from being fitted or from machining.
Secondhand and exchanged items are checked for quality and function, then refurbished as necessary, but will have some cosmetic marks from fitting and use.
Currently available
Swing Crank, standard, left hand, anodised black. New,

very

minor cosmetic marks in the anodising. These are barely noticeable.
£245  £225+VAT (if appropiate) SOLD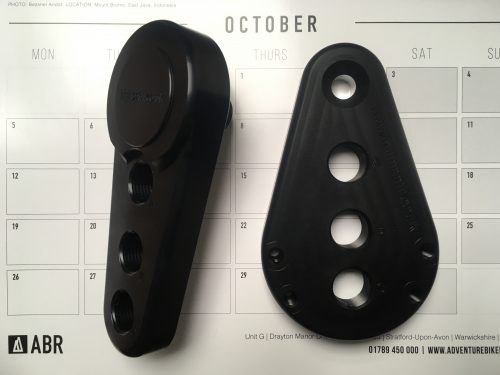 Swing Crank, standard, left hand, raw aluminium finish. Barely used – less than two weeks but has suffered some cosmetic damage. Checked for safety and found fully functional. New fitting kit. As pictured below £235 £140 +VAT (if appropiate). With a replacement bearing cap to improve appearance £175 +VAT (if appropiate). SOLD

Swing Crank arm standard, right hand side, in silver. Used (by me) for a few hundred miles, now replaced by a custom shortened arm. A few marks from use but in good condition. New axle fitted.                      Arm only (to be used with a shortened crank or your own shortener) £175 £110. Complete with a new crank shortener £235 £180. VAT as appropiate, postage to UK free.
Please contact us if you would like to order any of these items. We will issue an invoice by email to be paid by bank transfer, cheque or credit card / Paypal
VAT of 20% will be added for UK/EU customers, unless you are eligible for zero-rating – see here.
International orders – please contact us for postage prices.