Custom Crank Shortening
We can shorten most solid aluminium cranks by reshaping their ends and drilling, tapping and facing new pedal holes. Unlike some of our competitors, we use custom made jigs and a CNC milling machine to ensure the accuracy of this work.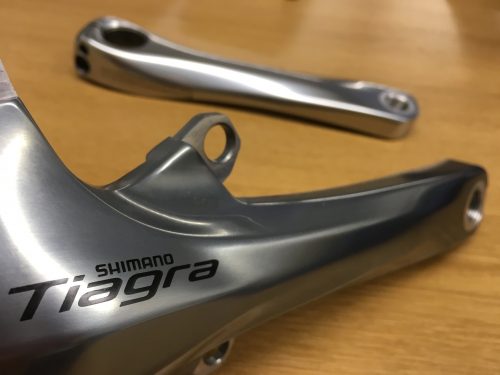 By how much? – Cranks can be shortened by 20mm or more. See "Crank Length" below for advice on choosing the best length for you. Note that shortening by 23 mm or less often leaves traces of the old hole threads on the reshaped crank end. Please tell us if you would like these removed by a slight reduction of the amount of metal beyond the new pedal hole – leaving a crank that is very slightly weaker but nicer to look at.
Options – Cranks can be threaded left or right, and for normal (9/16) or junior (1/2) pedals.
Tandem cranks – Cranks can also be reverse-threaded for tandem cross-over drives.
Extra holes* – Extra holes provide a choice of pedal positions, but also weaken your cranks. We will only add them if you indemnify us against breakage. We suggest using Pulse Crank Shorteners instead.
Chainrings – You may need smaller chainrings with shorter cranks, due to the reduced leverage – or you may still be able to push the same gears, as you'll be pedalling more efficiently. See Fred Gugic's entry in the Testimonials page.
Cranks suitable for shortening
We are often asked to recommend the best makes for shortening, but this is difficult since designs change often.  Most old cranks are suitable but some modern ones aren't. The ideal crank is
solid aluminium
non or shallow fluted
as chunky as possible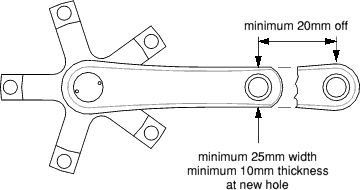 We cannot shorten

hollow cranks (eg. Shimano Hollowtech)
steel cranks
carbon cranks
very narrow cranks (narrower than 25mm at the new pedal position)
deeply fluted cranks (leaving less than 10mm material thickness)
by less than 20mm
Your guarantee on crank shortening
If we have doubts about the suitability of your cranks, we will contact you before proceeding.
Special jigs are used to ensure that every new pedal hole is true to the bottom-bracket axle (even if your crank is bent) Please note: we won't work on your cranks unless you accept our terms and conditions.
The alternative: Pulse Crank Shorteners
These attach to your cranks to provide a choice of three or four new pedal positions. They can be removed and do not alter your cranks in any way. Click here for further information.
Pricing
Crank shortening

GB pounds

Shortening
1 crank
£ 45.00+VAT
1 pair of cranks (to same length)
£ 65.00+VAT
each extra hole

 *

(see above)
£ 15.00+VAT
Post + Packing
UK
£ 6.99 – £11.00
UK orders over £ 160
FREE
Get in touch for international postage rates
How to send your cranks
Remove the chainrings and clean your cranks (we charge an additional £ 8.00 to remove and replace chainrings). We will not work on dirty cranks
Attach a label to each crank with your name on it.
Complete and sign an Order Form.
Wrap everything carefully and send it by a secure service (eg. Royal Mail 'Signed-For').
If you are requesting extra pedal holes, add the following note, date and sign it:
'I understand that extra holes will weaken my cranks. I indemnify Highpath Engineering Ltd. against crank breakage'.
After we've successfully repaired or converted your cranks, we will contact you with an invoice, payable by bank transfer (preferred) or by credit card (via PayPal).
Timescale and Delivery
You should allow up to 4-6 weeks for the work to be completed. There may be extra lead time during busy periods and holidays. Please contact Patrick if you need more information.
---
Crank Length
It is important to use the correct length of crank to ensure that your legs can work efficiently. You risk damaging your knees if you habitually use cranks which are too long, especially as you get older. 170mm cranks, which most cycle manufacturers fit as standard to most bicycles, are unsuitable for anyone shorter than the average European adult male and are therefore too long for most people in the World!
Normally fit adult riders should use cranks which measure about 20% of their effective leg length, rounded to the nearest 5mm, whereas growing children can safely increase this figure to 22%. This length goes all the way to your hip joint and cannot be measured directly. Ask a friend to measure your height twice – first when you are standing upright against a wall, without shoes on, and second when you are sitting squarely against it. Then subtract one measurement from the other one, as shown below.

The following table shows recommended crank lengths for normally fit riders on upright bicycles, based on the 20% to 22% range. Even shorter cranks may be required by disabled riders with restricted knee movement and by users of faired racing recumbents (due to space restrictions). Additionally, riders with very long legs may need shorter cranks on standard upright bicycles, to prevent their toes hitting the front wheel or their pedals hitting the ground when cornering.
leg :
50
52.5
55
57.5
60
62.5
65
67.5
70
72.5
75
77.5
80
82.5
85
87.5
90
92.5
child :
adult :
110
100
115
105
120
110
125
115
130
120
140
125
145
130
150
135
155
140
160
145
160
150
165
155
170
160
175
165
175
170
180
175
180
180
185
185