Crank Repairs and Modifications
Pedal Thread Repairs
If you have stripped, damaged and crooked pedal threads these can usually be repaired by installing a new thread insert. We then mill the surrounding area to ensure a perfect pedal fit.
We can repair the pedal thread on carbon cranks if the original metal insert is still bonded to the carbon.
Unlike some of our competitors, we ensure the accuracy of the new thread using a precision milling machine and custom made jigs.
Crank Shortening
Please see the crank shortening page for details.
Tandem Cranks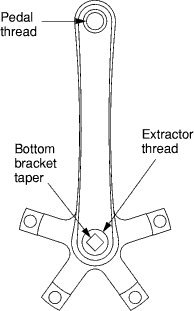 Send us your standard cranks (2 right-hand ones and 1 left-hand one). We will reverse-thread them to turn them into tandem crossover cranks. We can also shorten them at the same time at no extra cost.
Other modifications
Please contact Patrick to discuss any other modifications you may require.
Note: we don't straighten bent cranks or repair damaged bottom-bracket tapers.
Your guarantee
If we have doubts about the suitability of your cranks, we will contact you before proceeding. All work is carried out on special jigs and remains true to the bottom-bracket axle (even if your crank is bent)
Note
We won't work on your cranks unless you accept our terms and conditions.
 

Crank repairs

 

GB pounds

 

 
 
 
 
 
 
 
 
Pedal thread repair or crank shortening – cranks without axles
1 crank
£ 31.00+VAT
 
 
 
1 pair of cranks
£ 51.00+VAT
 
 
 
 
 
Pedal thread repair or crank shortening – cranks with integral axle systems
1 crank
£ 43.00+VAT
 
 
 
1 pair of cranks
£ 63.00+VAT
 
 
 
 
 
Extra holes (with repair or shortening)
per hole
£ 12.50+VAT
 
 
 
 
 
 
 
 
 
 
Tandem cranks
1 crank
£ 31.00+VAT
 
 
 (add £10+VAT for integrated axles)
2 or more cranks  (each)
£ 26.00+VAT
 
 
 
 
 
Post + Packing
UK
£ 6.99 – £11.00
 
 
 
Overseas
at cost
 
 
 

Orders over £160 net

FREE
 
How to send your cranks
Remove the chainrings and clean your cranks (otherwise please add £ 6.00 to your payment).
Attach a label to each crank with your name on it.
Complete and sign an Order Form.
Contact us to arrange a bank transfer or PayPal payment (3.7% charge), or enclose a cheque payable to 'Highpath Engineering Limited' (add £2 to cover our bank charges). Remember to add 20% VAT to the service price (not the postage).
Wrap everything carefully and send it by a secure service (eg. Royal Mail 'Signed-For').
Timescale and Delivery
You should allow 4 weeks for the work to be completed. There may be delays at certain times of the year ( busy periods and holidays ). Please contact us if you need more information.
December 2018
Faced with ever rising costs for rent, tooling, power and materials, we are having to raise prices, our first increase in 4 years. From 1st January 2019, our charges for single cranks wil rise by £3, pairs by £6. The uplift for cranks using integrated axles rises to £12, and the chainring/cleaning fee will become £6. All prices subject to VAT.
Any cranks received before 2nd January will be charged at current prices. Thank you for your continued support of our unique custom crank service.