Crank Shorteners
Crank Shorteners provide 3 or 4 new positions for your pedals and are designed to adapt adult cranks for shorter riders and those with mobility restrictions.
Two versions are available:
Standard Crank Shorteners
Suitable for most adults and children. Ideal for use by children on low-back tandems.
Have 3 pedal holes to shorten your cranks by 27, 50 or 70mm.
Effectively reduce standard 170mm cranks to 143mm, 120mm or 100mm – 16% steps.
ER (Extended Range) Crank Shorteners
For riders with greater flexibility problems.
Have 4 pedal holes to shorten your cranks by 27, 50, 70 or 88mm.
Effectively reduce standard 170mm cranks to 143mm, 120mm, 100mm or 82mm – 16% steps as above
( See Crank Length table at bottom of page for advice on choosing the length of your cranks.)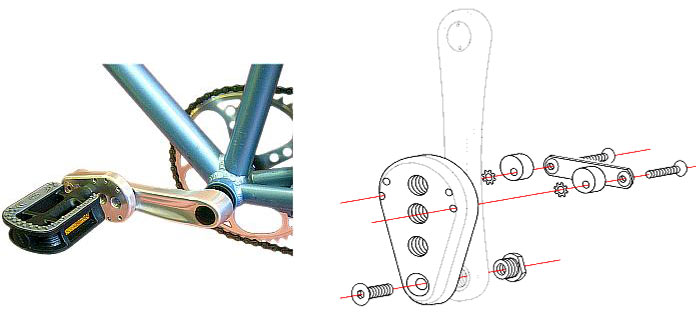 Our Crank Shorteners are machined from high grade aluminium alloy and are supplied with stainless fasteners. Unlike other designs, stainless bosses prevent damage to the original pedal threads in your cranks. They are supplied with a selection of fittings, allowing them to be fitted to most cycles:
Left cranks up to 41mm wide (

*

)
Right cranks up to 41mm wide (

*

), with removeable chainrings
Standard adult 9/16″ thread pedals which can be tightened with a spanner (maximum thread length = 12mm)
(*) please request 'fat cams' if your cranks are VERY narrow (less than 21mm)
Standard crank shorteners are available in raw aluminium and grey/silver or satin black anodised finishes. ER version are available in raw or black finishes, grey/silver ER versions will be added later in 2022.
The Alternatives
Crank Shortening : It may be possible to shorten your cranks permanently.
Swing Crank : Recommended if you have reduced bend in one of your knees (for example, following knee surgery).
---
Order Online – only for UK residents who pay 20% VAT or Rest of World residents who pay no VAT. PayPal checkout will add 20% VAT to the button price on UK orders.
We can supply at zero VAT for eligible UK customers – please see here
Crank Shorteners

GB Pounds

(UK price includes 20% VAT)

Pair of Standard 3 hole Crank Shorteners


£150/165 (non UK)

£180/198 (UK)

Single Standard 3-hole Crank Shortener
£80/90 (non UK)

£96/108 (UK)

 Single ER 4-hole Crank Shortener
£97.50/107.50 (non UK)

£117/129 (UK)

Spare parts

Click here to order spare parts for your Crank Shorteners including alternative fixings for very narrow and very thick cranks

Shipping: £ 6.99 to any part of the World. Free on orders over £160.00
Delivery
We aim to despatch these items within 7 -14 days, but there may be delays at certain times of the year (e.g. busy periods and holidays) – please contact Patrick if you need to be certain.
Trial period
We want all our customers to be absolutely happy with our products. If, within 14 days of receiving any Highpath product, you find it unsuitable for your needs you may return it in as new condition, using the original packing, for a full refund. Please use a trackable delivery service, at your own expense.
If the Shortener has been fitted, a nominal deduction will be made for the 'consumable' items used in fitting – namely the straps, star washers, packing strip, the Torx screws and driver – and the reduction in value of the item due to fitting marks, our postage costs etc. This 'restocking fee' will be a maximum of 25% of the purchase price, subject to condition.
We reserve the right to make a further deduction from the refund if any item is returned in less than saleable condition or with items missing.
If you have any concerns about our refund policy, please contact us.
Fitting
Easy to fit using hand tools, though if you have any doubts get them fitted by your local cycle shop, or a fitting service is available by post.
Free fitting service

Printed instructions are enclosed with every Crank Shortener, or you can download a copy here.
Important : Your safety depends on the correct fitting of these items. SEEK PROFESSIONAL HELP IF NECESSARY, or send your crank(s) to us if you'd like your Crank Shortener(s) fitted for you.
---
Crank Length
It is important to use the correct length of crank to ensure that your legs can work efficiently. You risk damaging your knees if you habitually use cranks which are too long, especially as you get older. 170mm cranks, which most cycle manufacturers fit as standard to most bicycles, are unsuitable for anyone shorter than the average European adult male and are therefore too long for most people in the World!
Normally fit adult riders should use cranks which measure about 20% of their effective leg length, rounded to the nearest 5mm, whereas growing children can safely increase this figure to 22%. This length goes all the way to your hip joint and cannot be measured directly. Ask a friend to measure your height twice – first when you are standing upright against a wall, without shoes on, and second when you are sitting squarely against it. Then subtract one measurement from the other one, as shown below.

The following table shows recommended crank lengths for normally fit riders on upright bicycles, based on the 20% to 22% range. Even shorter cranks may be required by disabled riders with restricted knee movement and by users of faired racing recumbents (due to space restrictions). Additionally, riders with very long legs may need shorter cranks on standard upright bicycles, to prevent their toes hitting the front wheel or their pedals hitting the ground when cornering.
leg :
50
52.5
55
57.5
60
62.5
65
67.5
70
72.5
75
77.5
80
82.5
85
87.5
90
92.5
child :
adult :
110
100
115
105
120
110
125
115
130
120
140
125
145
130
150
135
155
140
160
145
160
150
165
155
170
160
175
165
175
170
180
175
180
180
185
185