News Updates
1st February 2016
VAT
As of 1st February 2016, Highpath Engineering Ltd is VAT registered.
We apply 20% VAT to the prices of all goods and services supplied to UK and EU customers.
All orders from non-EU countries will not attract any VAT.
We realise that this enforced price rise is unwelcome for customers, and have absorbed some of the increase ourselves.
We are able to supply some Pulse products and services at nil-rate VAT within the EU if you have a chronic disability (for example a long term restriction of movement due to joint surgery) and are willing to fill in a this simple declaration.
Please do not use Paypal checkout if you are a UK/EU customer and want to claim this relief – complete page 2 of the declaration form and send it to us by email to orders@highpath.net, or by post, with a note of what goods or services you wish to order. We will raise a VAT-free invoice for you to pay by bank transfer, cheque, or Paypal
1st September 2016
Chris Bell
We are sorry to announce that Chris Bell, Highpath's brilliant founding engineer, passed away on 5th August 2016 after a long fight with cancer. He is sorely missed.
30th December 2016
Planned maintenance
We will be closed for stocktaking and workshop maintenance from 16th January 2017 to 6th February 2017. We will not be sending out orders or offering modifications during this period.
All orders made during this time will be sent as soon as possible after the 6th February. Sorry for any inconvenience caused by this essential maintenance.
13 February 2017
Sale
After our stocktake we have some more slight seconds at discounted prices – see our sale page
8 August 2017
Credit Cards
We can now accept most major credit cards for purchase over the phone or in person
24th December 2018
New 'Dark' finish
After many requests for a black finish to blend with the colour of newer cranks, are very pleased to announce that Swing Cranks and Shorteners are now available in a beautiful satin black anodised finish. Here's a comparison of the raw aluminium and anodised Swing Cranks on my own black FSA Gossamer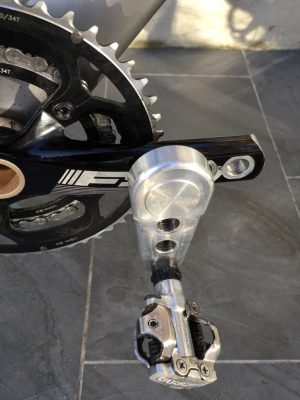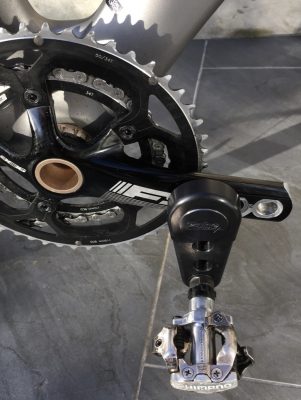 We have standard versions in stock – the long versions will be available in the next few weeks.
For the moment, the black finish is available at the same price as the raw aluminium – but prices will be rising soon. If you'd like your Crank Shortener or Swing Crank in black, please mention it in the PayPal notes (if buying online) or in your email/enquiry (if buying with a VAT exemption)